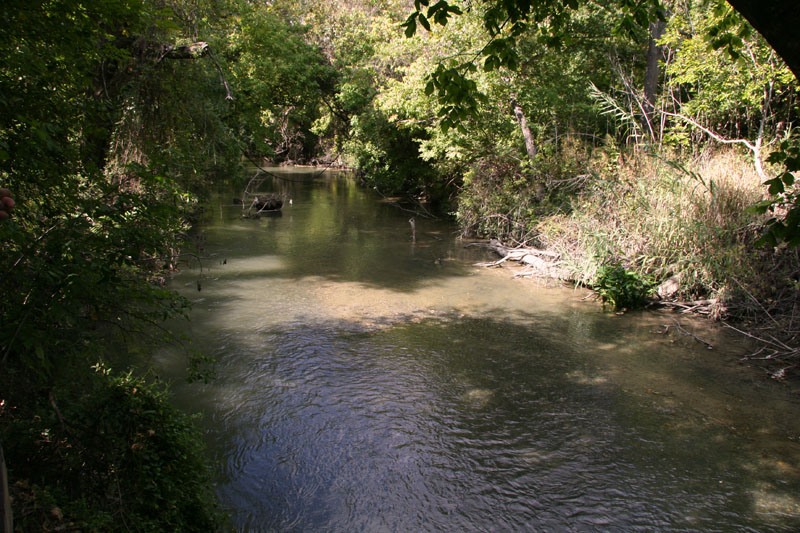 Imagine yourself a Native American, pre- 1600 ad traveling with your family and friends by foot across the land and coming to a warm climate, bounteous agriculture and complete with a life-giving river fed by multitudes of springs.
OR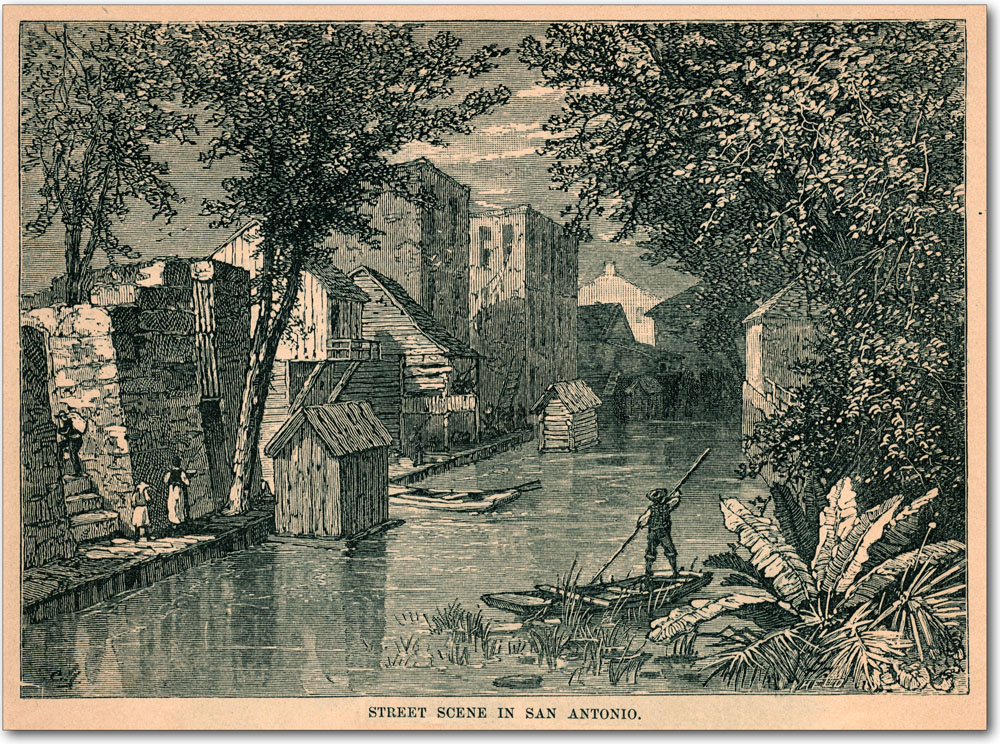 imagine coming to the New World some time after 1600 ad and after traveling for many months over treacherous miles, in calamitous weather, you happen upon a temperate region with a river so wide - with waters so clear you could see the outlines of individual pebbles in it's depths.
It has been described by American historians quoting explorers as being fed by gushing streams and moving unbelievably fast yet magically quiet and with an uncanny sereneness.
In 1877 Harriet Prescott Spofford, writing for Harper's New Monthly Magazine, rode on one of the first trains to San Antonio and declared "On a more enchanting spot the eye of poet never rested. There is probably nothing like it in America." She continued:
"In and out among these houses slips the

San Antonio River, clear as crystal,

swifter than a mill-race; now narrow and

foaming along between steep banks with

luxuriant semi-tropical growth, and with

the tall pecans on either side meeting

above them in vaulting shadows; now

spreading in sunny shallows between

long grassy swards starred with flowers,

twisting and turning and doubling on

itself, so tortuous that the three miles

of the straight line from its head to the

market-place it makes only in fourteen

miles of caprices and surprises, rapids

and eddies and falls and narrow curves,

reach after reach of soft green and

flickering sunshine, each more

exquisitely beautiful than the other.

Around every lane it takes a loop; here

it is just a pebbly ford, there, although

so perfectly transparent that you can

see every flint in its bed, it is of a

profound depth, and every where it

is of a color whose loveliness is past

belief. It flows by the Mexican jacal,

and through the wealthy garden,

around the churches, across the

business streets with its delightful

glimpses. You can not escape it; you

think you have left it behind you, and

there it is before you, hurrying along

to the forests on its two hundred miles

to the Gulf. "
For centuries this same San Antonio River in south central Texas has provided a magnet for colonists and pioneers and contributed to the diverse cultural fusion - Hispanic, European and Native American - that helped fashion the thriving River City metropolis known as San Antonio - today, the seventh largest city in the United States. This bewildering collision of cultures has left a permanent imprint on the local landscape that goes beyond the numerous architectural treasures that can be found in this beautiful historic city.
I recently heard of some walking tours in San Antonio and was so impressed with some of the
reviews
I read of these tours that I called them to meet and discuss the tour. Gary came all the way to my place on the southwest side of San Antonio to fill me in. And wow, he's done his homework. What I learned was truly illuminating and even though not a history buff, I was amazed at how Gary's hi
STORY
made me look at The Alamo, Texas and San Antonio in a whole new light.
After spending about an hour or more with one of the experts of
San AntonioWalks.com
on one of their San Antonio walking tours, their goal of helping visitors to "Don't just see,
understand
San Antonio," gives you the opportunity of experiencing San Antonio, the Alamo, the River, La Villita and other famous landmarks through a rare perspective, from the vantage point of the cities early communities and how they interacted.
Beginning your tour at, of course, the Alamo Plaza, you'll meet the red shirted guide and embark upon a WALK that will, with it's unique approach of connecting events in history to their physical locations and telling the STORY of San Antonio in a way that will bring to life and round out you understanding of the famous battle like no other tour. San Antonio certainly has a compelling tale to tell. The city played a pivotal role in the history of the State of Texas with the citadel known as The Alamo acting as the fulcrum which could just as easily have tilted toward Mexico rather than the United States. Originally established as a means to teach the Indian population to speak and read English, and to convert them to Catholicism, Mission San Antonio de Valero, now known as the Alamo, was established in 1718 by Franciscan missionary Fray Antonio de San Buenaventura y Olivares and ultimately grew to be a 4.2 acre complex. It ultimately became an iconic symbol in the drive towards an independent Texan Republic.
This new found understanding motivated me to do more reading and research about the roots of this diverse city. Although Gary's informative guide to the city was by far superior, I also like this video done by the San Antonio Visitors and Convention Center on the rich cultural roots of San Antonio as well as it's impact on Texas and the many people who settled in this city. Check it out here...
San Antonio Authentic Culture.
And if you live here in our rich historical city of San Antonio or the next time you visit our city, check out
SanAntonioWalks.com
or give us a call at
Hidden Valley RV Park
and we'll help you reserve your place in one of their unique walking tours.